Book Recommendation: Rise Above, Free Your Mind One Brushstroke at a Time by Whitney Freya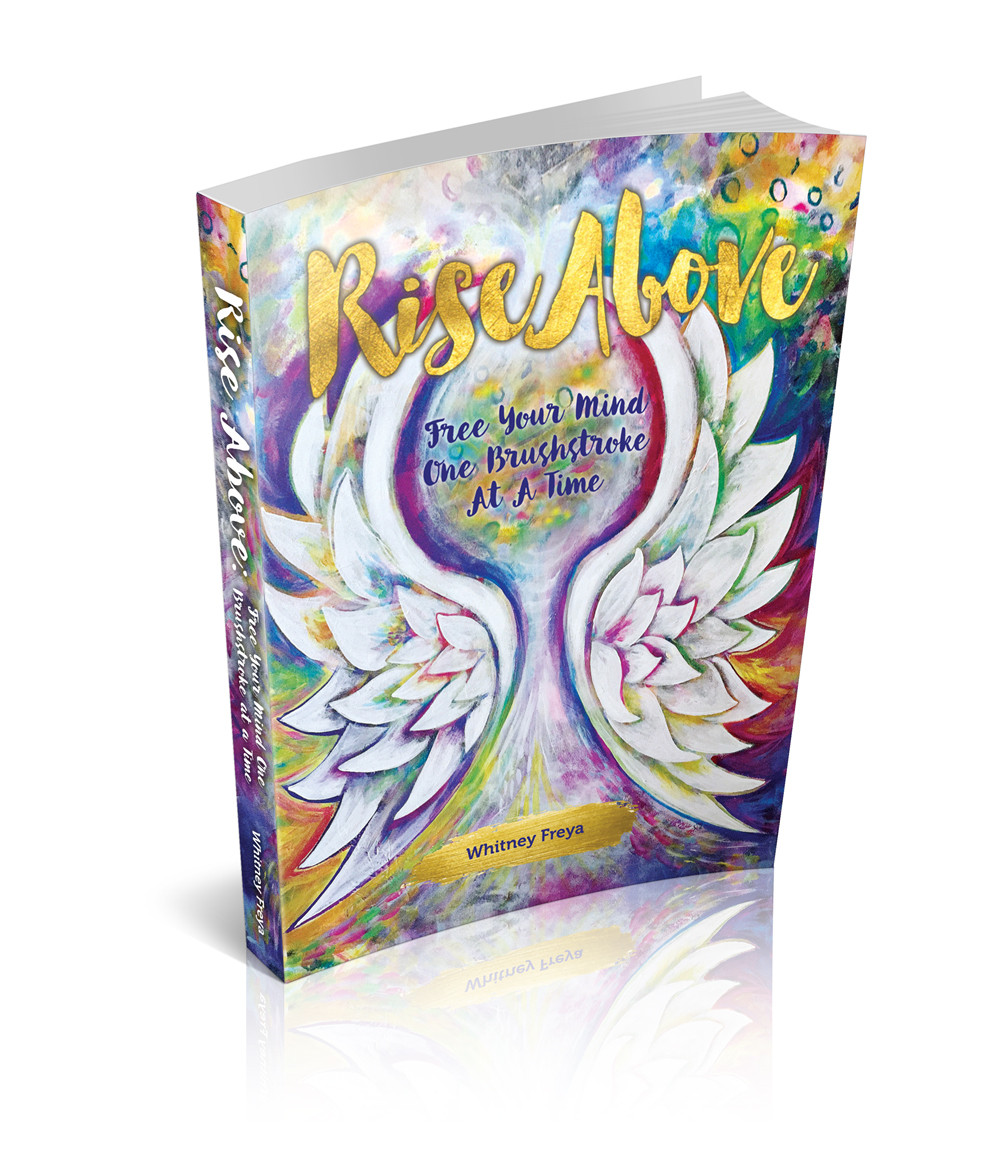 In the summer of 2017 I had a returning desire to make creative gifts to sell, and also wanted to start teaching on-line art classes. But I felt there was something missing from my business approach, something missing from my art, but I could not put my finger on it. I was taking Amber Kuileimanilani Bonnici's semi-annual free Woman Unleashed Online Retreat at the time. In this online retreat she gathers women in the businesses of art, spirituality, and yoga, among other things, to teach a free lesson in their field of expertise. Whitney Freya was one of those teachers.
After enjoying Whitney's class, and before I joined her community, I followed her on You-tube. I felt a connection to what she was saying, a knowing that resonated with my soul. I felt that she had the key to what I felt was missing from my art, and my life. I was not ready to sign up for any of her classes yet, and couldn't hit the buy now button for her book. There was so much going on in my life. I felt I needed to wait and revisit her offerings sometime in the future. Have you ever been in that place? You know its something you want to do but can't make the leap?

By September, I was in the throes of planning my eldest daughter's wedding and preparing for a monster hurricane headed right towards us. There were also other things going on in my life that were causing me worry, so putting together a business plan and following my dream was not a priority.
I prepared well for the hurricane and even decided that as the hurricane was going to be over us, I would immerse myself in painting, as that has always relieved worry and stress for me. So by candle-light, 90 degree F temps (the power was out) and in the company of my youngest daughter, we painted our hurricane paintings using the energy of the storm as inspiration. Lucky for us, but unfortunately not for others, the storm turned slighly away from us before it hit land, so it wasn't as bad for us as it could have been.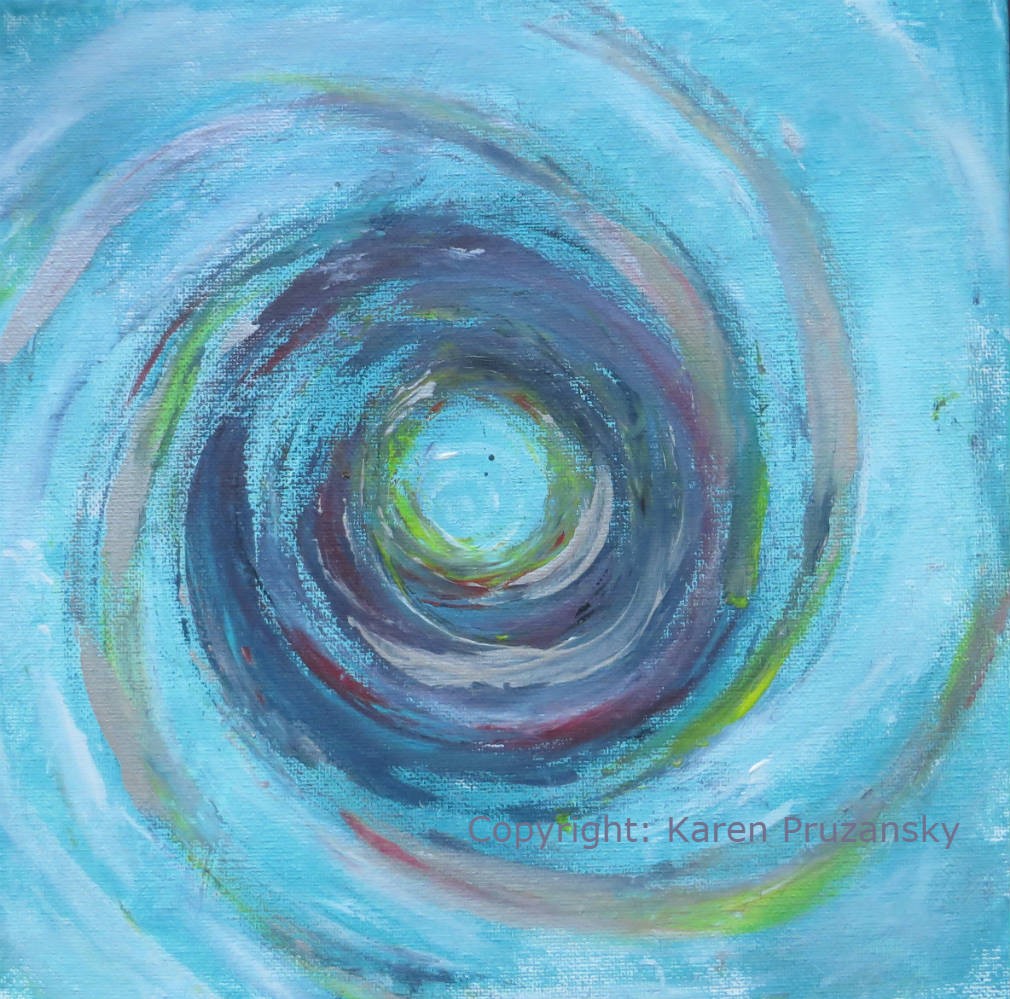 I enjoyed creating that painting so much. I loved the idea of using the energy of the earth/sky/weather as inspiration. This brought my thoughts back to Whitney Freya, as she connects with her inner wisdom, her soul, the energy around her and the energy she seeks, as inspiration for paintings.
Without electric power (that was taken out by the storm), I had just enough power on my phone to watch some of Whitney Freya's YouTube videos. My heart told me to take the leap and I signed up for her Super Soul Flow on-line class. (This class is AMAZING and LIFE CHANGING......you can access it, and her other classes here with my affiliate code
https://whitneyfreya.teachable.com/courses?affcode...
)
As I was taking the class, she referred to her book Rise Above, Free Your Mind One Brushstroke at a Time, as the companion book to the class. Loving the class, I bought the book. The book is AMAZING! You can understand all the activites in the book without taking the class. But if you love the book, you will LOVE the online class Super Soul Flow.
Rise Above, Free Your Mind One Brushstroke at a Time is such a big juicy book filled to the rim with Whitney Freya's inspiring art,her intuitive insights, and quotes of inspiration. One of her many inspiring and inspirational mottos is "You are the Co-Creator of Your Life", and I can't resist another, "Go to the Canvas to CREATE the ENERGY that you want to attract in your life". This book, and her class Super Soul Flow will show you the way. The book can be read chapter to chapter or you can just open the book anywhere and read the chapter that speaks to you.
If you ever felt stuck in your life, have big dreams but fears and anxiety prevents you from fulfilling those dreams, or if you want to create a more personal relationship with your soul, and the energy around you or that you want to attract, then this book is for you!
If you are inspired by Whitney's art and want to learn how to tap into the energy of painting, then this book is for you!
If you want to be the creator of your life, just like you can create what you want on the canvas, then this book is for you!
If you want to RISE ABOVE life's drama, then this book is for you!
If you want to attract Freedom, Self-Love, Presence, Abundance, Fearlessness, Clarity, Intuition, Spaciousness, Peace, Ease and Grace, and Joy, then this book is for YOU!
A quote from Chapter 12 on creating your Personal Symbol:
"Stay on your mountaintop. Make whatever choices are in ALIGNMENT with the TRUTH that your "boomerang" is coming back. That is the secret."
If you haven't read this book, then read the book, play and create art, watch how when you create whatever energy you want on the canvas, it is reflected back to you in your life, and then you will understand the quote above.
Whitney Freya has an infectious energy, not only in her book, but in her videos (check out her You-Tube Channel:
https://www.youtube.com/channel/UCmEUEQsJCysbU62Vy...
). She has this magical ability to connect with universal symbols and their energies to create change in the lives of so many!
Rise Above, Free Your Mind One Brushstroke at a Time is her third published book, and my favorite. She inspires so many with her books, videos, in-person workshops, online classes and Certified Creatively Fit Coaching Training (which I have completed myself).
This book is so full of information and inspiration that Book Clubs are popping up around the country....that's how wonderful it is. If you are interested in an on-line book club with me, comment below or private message me on Facebook or Instagram and I will be in touch.

Visit Whitney Freya's online teachable classroom and see everything she has to offer by clicking on my affiliate code:
https://whitneyfreya.teachable.com/courses?affcode...
. By using my affiliate code, you are helping me with my free offerings here at Artistic Imprint.
Go buy and enjoy the book. I would love to hear what you think.
Here is a link to a video I created with just a small sampling of all the artwork that I created, inspired by Whitney Freya, her book Rise Above, Free Your Mind One Brushstroke at a Time, and her classes Super Soul Flow, Vision Quest, Paint Buddha and her Certified Creatively Fit Coaching Program.
Artwork inspired by Whitney Freya
Using this code helps me bring all the free goodies here to Artistic Imprint.
Thank you and enjoy!
Imprintably yours,
Karen Pruzansky, Multi-Media Artist and Certified Creatively Fit Coach